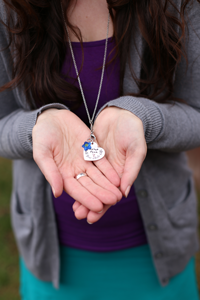 This is the story of our journey through loss. I didn't sit down to write this until a year after I gave birth to death. I was afraid that I would forget some of the details of our son, but when you start to remember that day, it is as real as ever.
Asher Finn Barth was born on his due date, Sunday morning, October 9th, 2011 in Whitefish Montana. He was our firstborn, our little monkey that we had prayed for everyday. My husband Jim and I had been trying to get pregnant for about two years. We were almost to the point of doing some testing to make sure everything was okay with us. We had just asked our church to start praying for us and they also chose to fast for 30 hours. We decided that we were okay with it just being the two of us. Jim and I had been married for five years and enjoyed every moment of serving in ministry together. Even so, that very same month I saw the lines on the test and immediately fell in love with my baby and all of the dreams and plans for the future that come with it.
We heard our baby's heart beat for the first time on Valentine's day. Everything was going so well and we scheduled our 20 week ultrasound. We didn't know for sure if we wanted to know the gender, but we had a feeling it was a girl. Our Kamari, we had her name picked out for years. The tech said our baby was perfect and growing beautifully. She quickly moved the wand and said, "uh, did you want to know what you are having?" My husband said, "well I think I saw IT." I couldn't believe it! A boy! Such a surprise, so much for intuition. We had just both felt like we would be raising a girl. We went that day and started buying nursery decorations. I wanted to design and make every aspect of his nursery. I even painted a mural on the wall with the verse, "I will lie down and sleep in peace, for You, Oh Lord make me dwell in safety."
We lived almost two hours from the closest birthing center/hospital but faithfully made the trek for every OB appt. I had a picture perfect pregnancy. And I chose not to worry, especially after we made it past the "safe zone". People kept telling me stories of their babies born early and how even at 24 weeks, babies survive. I was so excited that we were definitely going to get our son.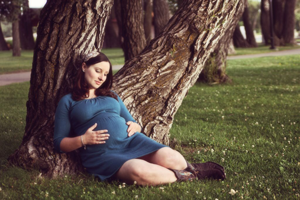 I was coaching cheerleading that fall, and my girls loved touching my belly and feeling their little "cheer baby" kick. I remember choreographing a huge dance event at our school the week I was due with Asher. Everyone kept saying that I was in such good shape but also mentioned that I couldn't possibly be due soon because I was so small. I brought it up to our doctor and she said that I was just holding him in close and that my stomach muscles were not stretched out because he was our first. I started to wonder why I never measured more than 34cm even when I was now 39 weeks but what doctor wants to be questioned? Our last appointment we heard Asher's heartbeat loud and strong. I gained 5 pounds that week but was still only 34cm and that did concern me. My doctor assured me that everything was fine. I had lost my mucus plug and was 3cm dilated. She expected me to go into labor within a week.
That was Wednesday. On Friday, I was coaching and the girls were laughing at my belly moving from side to side. I visited my friend who had just given birth to her son. She shared how hard delivery is but its all worth it when you hear your baby cry and hold them and look into their eyes. I actually shared with her that a dear friend had given birth to her baby in silence the day before our wedding. We talked about how incredibly horrendous it must have been for her to still have to give birth after her baby had died. I will always remember that conversation. I was innocent and unaware. I felt like that was a freak accident or she must have done something to affect her pregnancy. I did not ever listen to her full story and was completely oblivious to the percentages.
Friday night when we went to bed, my husband and I were talking to Asher and he did not seem to be as active. In fact, it was at that moment that I thought I was going to have him soon. All of the pregnancy books say that when your baby drops they do not have as much room to move and they might slow down. We fell asleep and around 6am I woke up wondering how I had slept so long without feeling my son dance in my womb. I got up and ate and drank a large glass of water. I fell back to sleep on the couch after singing to Asher and trying to get a response. My husband got up and asked what was going on. I told him that we should call the doctor and maybe have a NST just to make sure he was okay. We have a neighbor who is a nurse and considered just having her check for his heartbeat but decided we would call. I was afraid to call because I didn't want to be one of "those women" who call or every little thing. I had not had even one concern to call about, my entire pregnancy. Our doctor asked me to eat and drink and I said I had already done that. She told us we could meet her at the hospital if we didn't mind driving all that way but she was sure he would wake up and then we should just turn around and go home. We took showers and grabbed the camera and diaper bag. The car seat was already installed and we were excited that this might be it! Jim and I talked on the drive about our worst case scenario, maybe he was in distress and I would need a c-section. We decided that our birth plan didn't matter.
We arrived at the hospital and a nurse had me undress and hooked up the monitor. She listened for his heart beat and kept picking up mine. As soon as she started saying, she knew it was in there and he must be in a bad position, I knew. She left and got our midwife. They grabbed the ultrasound machine and put the wand to my 40 week belly. When she found his heart she started swearing under her breath and moving it frantically. My heart broke into a million pieces. I knew. She said she was not good at using that machine and would get the head OB. No one wanted to tell us. Why do they do that? We aren't stupid. Someone just needs to say it. The OB came in and looked at the screen. She showed us Asher's heart and said, "I'm so sorry you guys, his heart isn't beating."
I cannot describe the feeling of dying but still breathing. The overwhelming fear, of a nightmare come true. The feelings and sounds that I never knew my body could produce. That moment was the hardest. When our dreams, our future, our youth, our innocence, our firstborn son; were stolen from us. All in a single second. I have struggled to put words on paper after this point. I remember that moment and I sob and wonder how I have survived it. How I can smile, how I carried and gave birth to my daughter. I wonder if any other baby loss parents ask these questions. We felt so alone and helpless that day.
The hospital staff left the room and our doctor just sat there and started to talk about our options. My first thought was, just do a c-section quick and get him out. I can't possibly go through labor. They assured us that a c-section was not an option but labor was going to be long and painful since Asher was not working with me now. They told us we could go home and wait for labor to happen on it's own. Or, they could induce me now. All of our family lives over 2,500 miles away so we wanted some time to call them and start the excruciating process of telling them that their grandson and nephew was going to be born in silence.
They kept the monitor on me to check contractions and amazingly enough, my body was already going into labor. We were able to walk around the waiting room and outside. Friends had started to arrive. Jim and I just cried and tried to understand why this was happening to us. I told him that I didn't think I could ever be pregnant again, it would just have to be us. We decided to stay at the hospital and begin the long journey of bringing Asher into the world. Personally, I couldn't imagine going home when he was already gone and still inside of me. The staff gave us both sleeping pills since we were so drained, and they told us to try and sleep since the labor could go for about 36 hours or more. I don't remember much of those few hours. The drugs were terrible. I was in a daze and had such a splitting headache from crying. I just tried to forget that my son would not cry or look at me when he was born. I needed to focus on bringing him into the world.
I woke a few hours later in active labor. I asked for an epidural because I knew I didn't have the strength to get through it on my own. I was only in labor for six hours before they told me it was time to push. I was so grateful for that. I needed to see him. They told me he would be warm, but to also prepare for how he might look because he had died. Originally, Jim and I had wanted our son's birth to be a special thing between the three of us. But now, we asked for our friends to be there with us. My husband held one of my legs and my friend, the other. I pushed for 20 min. I felt the contractions because they did not give me heavy medication. I felt the "ring of fire" as my firstborn's wet head emerged. The midwife asked me for one more push and he would be here. She said later that she didn't know how much strength I had left because that last push made me tear pretty bad. She gave him right to me and I sobbed. I prayed for him to cry, this was not how it was supposed to be. He was so warm and perfect, and beautiful. There was absolutely no flaws or defects. And there was not a cord around his neck or a knot. We thought that there would be something to explain why he was gone. I was 26 years old and had just given birth to death. My body had betrayed me. I felt like a complete failure. We looked at him and kissed him as they stitched me up.
What came next should never have happened. The nurse brought in a "fetal death certificate" for my husband to sign. I had just given birth, and my husband asked why we didn't get a birth certificate. The nurse said very frankly, "he wasn't born alive so this is all you get." I had to watch my poor husband fill in our son's name and information. It was so traumatizing. He actually spelled my name wrong. We found out a few weeks later that the state of Montana had passed the MISSing Angels Bill three years prior. Our hospital was using very outdated forms and kept telling us that a "Certificate of Birth Resulting in Stillbirth" did not exist. We have since fought to the state capital so that no other parent has to go through this. Especially when the legislation is already in place.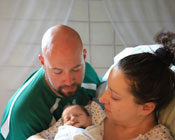 A nurse gave Asher a bath and put on his coming home outfit with the monkeys on it that we had picked out for him. They weighed and measured him and he was only 5lbs. 5ozs. and 19.5" long. The nurse actually said to me that it looked like I starved him! I couldn't believe it nor understand why he was so small for being full term. We chose to not have an autopsy mostly because we were given false information about it. They told us that we would not be able to have an open casket and it would be a few weeks before they could do it and we would have to delay a funeral. The thought of someone cutting into my baby was too much for me to even comprehend. We still needed to protect him. We are his parents. We did have pathology done on his placenta. They did a bunch of tests and drew blood from me to check for infections. And then they wanted to move me to the recovery room.
I needed to know where Asher was always. The told me he was in a crib and they would roll him into my room. They also pushed us to call a mortuary to come for him. We wanted to wait for my mom to fly in before we let him go. He was now cold and starting to turn purple in his face. My mom arrived just in time to hold him before the mortician came. I will always remember him asking what our son's name was and calling him by it. We needed that. Someone to acknowledge his existence. We kissed our baby boy goodbye and watched a stranger carry him out of the hospital.
That night was horrible. My husband said that I woke up in a panic, screaming for my baby. Looking back, those hormones and mothering instincts are there, even when our baby isn't. I couldn't wait to leave that place. We had to listen to other new moms giving birth and new babies crying all night.
My husband asked our friends to go take out Asher's car seat and also go back to our house and put everything away and close the nursery door. I know he did what he thought was best for me. We walked out of that hospital having aged years in an instance. We drove right to the funeral home to pick out our son's casket. They were very supportive and told us that they would not charge for the embalming and only their cost on his tiny white casket. They even offered to take his handprints since the hospital told us that was impossible. We spent the next few days away from home, planning our baby's funeral and recovering from the delivery.
When it was time to go back to our house, we stopped and picked up our baby boy. They had to use some makeup for his stork bite, but he was so perfect. We put him in his casket in our back seat with his grandmother, and drove the two hours back home. I will never forget the sight of my husband, carrying his little man into our house. We decided to place him in his crib in the nursery. I couldn't wait to show my mom everything we had gotten ready for him. His nursery and clothes and the tiny little moccasins his daddy had beaded for him.
We kept Asher with us for a few days until his funeral. I loved being able to bring him home and put him in his nursery. I was so afraid that no one would remember him, and I knew that I would be disappointed if I could not show him off. There was standing room only at his funeral. My husband is a pastor, and he preached at our son's funeral. I also read a letter that I wrote to him. His little casket fit perfectly in the beautiful wooden cradle that his grandpa had made.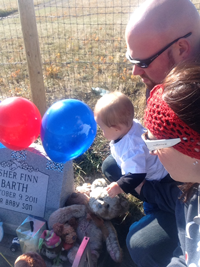 A year later, we founded Held Your Whole Life to support families whose babies never took a breath on this earth. We want to acknowledge the lives of the children who are lost before they were born. In just a few short months, we had made over 1,000 personalized hand stamped necklaces and shipped them world-wide. As of January 1st, 2016, we have shipped over 7,000 HYWL gifts. Seeing our Asher Finn's name brings so much comfort and we wanted to offer that to other grieving families. Our baby was our firstborn, our son, our baby. He is not a "fetal demise". I hate that term. I hate that the doctors and nurses and legislators refer to him as such.
We did find out, after some blood work, that I have a rare blood clotting disorder. The pathology on Asher's placenta showed tiny clots throughout and it was smaller than normal. That is why Asher was so small. He was not getting proper nutrition during my third trimester and could not hold on any longer.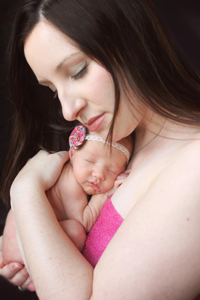 After being treated with twice a day injections of Lovenox and baby aspirin, we were able to carry our rainbow Kamari to 35 weeks and she was born via emergency c-section. She weighed exactly the same as Asher did. I truly believed that this was the only time I would ever survive one of my babies. But just 18 months after Kamari was born I became pregnant and miscarried our little Ember. This time I truly fell into a deep depression. I could not believe that after all that we had endured and survived, I would end up starting at another silent ultrasound screen. It was cruel and unfair and I didn't know that I could ever forgive God and continue to be strong. It was also a totally different kind of loss this time. Yes, I did not have to labor and split open as I gave birth, but with Ember we had nothing to bury. We did not have a face to adore and cry over. Instead, I lay in a cold room as a doctor scrubbed my womb with a wire brush. I had new scars and not even a belly picture to remember her by. We named her Ember because she was just a small glow in our lives for a short time. I started going to therapy to work through my triggered PTSD. I could now process why my mind worked the way it did, and I was able to learn how to know what caused my anxiety and stress.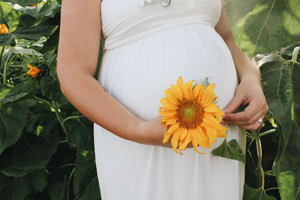 Just 3 months later I was pregnant again. Almost before we could really decide if we could endure another pregnancy. We started the injections and weekly ultrasounds. This would be it for us, Jim and I were both so emotionally and mentally drained. We didn't want to broken parents for our surviving children. We proceeded with caution, every day was another miracle for this sweet babe. At 14 weeks we found out that we were having a perfectly healthy boy! I had to process this a lot. My son was dead, I never imagined I would actually get to parent a little man. We named him Judah Haven, Judah means "Exuberant Praise" and Haven comes from our favorite Psalm. This pregnancy after loss was not easy in any sense of the word. I ended up going by ambulance to the closest large hospital with a NICU at 36 weeks. Judah held on for one more week and I gave birth to him just two days before Asher's 4th birthday. Talk about flashbacks! Being in the hospital with my new baby boy on Asher's birthday was really hard for me. Jim and Kamari picked out balloons for him and released them outside of my birthing suite window. As I held Judah and nursed him, I had peace and joy that I didn't think would ever come again. I was okay with this being it for our family. Judah was the healing that I needed and I can't even describe it.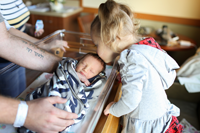 We smiled again. There is hope after the storm. Our mission is to serve bereaved families who have experienced the loss of their baby(s) in-utero, whether through miscarriage or still birth. These precious lives never had to experience suffering or sorrow, only love. It is such an inspiring gift to our babies to have held them their whole lives. So many of us understand the immense pain and anguish of giving birth in silence and having our babies torn from our lives, leaving us with broken hearts, emptiness, and shattered dreams. We exist to give recognition to the babies born in silence when the world wants to say they were not babies since they did not breathe air. We hope that by gifting a keepsake necklace, you will know that your child counted. We hope that you will find comfort and healing through those of us who have survived, and share your baby's beautiful story so that we may remember them.
~The Barth Family, Jim, Larisa, Asher Finn, Kamari Morning, Ember, and Judah Haven